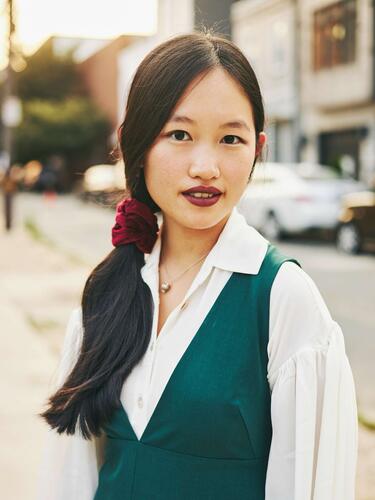 New Haven author R.F. Kuang wins Nebula Award for 'Babel'
R.F. Kuang said she learned that she won the Nebula for "Babel" on the release day of her new book "Yellowface."
New Haven author R.F. Kuang won a Nebula Award for her book "Babel." Credit: Mike Styer/ Courtesy of Harper Collins
New Haven author and Yale PhD student R. F. Kuang won a Nebula Award for her fantasy novel "Babel." 
The Nebula Award is an award for science fiction and fantasy novels that is selected and voted upon by members of the Science Fiction and Fantasy Writers Association.
"Imagine waking up in a hotel room in toronto and they're telling u u [sic] won the Nebula BYE," she wrote in the caption. 
"Babel" tells the story of Robin Swift, who was orphaned by a cholera outbreak in 1828 China before being taken in by a mysterious Oxford professor. Once in England, Robin is trained in Latin, Ancient Greek and Chinese so he can enroll in Oxford's prestigious Royal Institute of Translation, known as Babel. After years of diligent study, Robin is enrolled in Babel where he and his three classmates become quick friends, but Robin is forced to face some harsh truths about Babel and his life at Oxford.
"'Babel' is a novel about the magic of translation, the illusion and allure of the academy and the violence of anticolonial resistance. I think it is the perfect novel for people who enjoyed 'The Secret History' by Donna Tartt or 'Jonathan Strange & Mr. Norrell' by Susanna Clarke," Kuang said to Hearst Connecticut Media when the book was published in August 2022. "I started writing it while I was at Oxford and it is deeply influenced by the beauty of the place and the dark beauty that underwrites it. 'Babel' is my love letter and breakup letter with Oxford and academia."
Her new book "Yellowface" is a satirical look at the publishing industry and it follows an author, June, who steals the work of an Asian author, Athena, after she dies in a freak accident and publishes it as her own work under the pen name Juniper Song. The book follows how far June is willing to take her charade.
TinaMarie Craven is the assistant features editor with Hearst Connecticut Media Group. She was previously the editor of the Monroe Courier and Lewisboro Ledger. She has a journalism degree from Ithaca College. When she isn't writing, she's playing with her dog or planning her next trip.