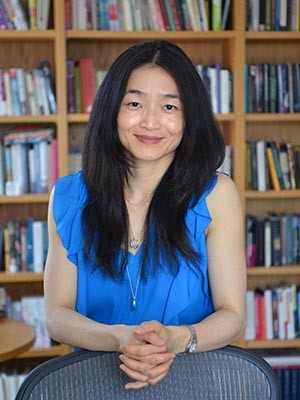 https://news.yale.edu/2019/08/27/jing-tsu-appointed-schiff-professor
Jing Tsu (Photo credit: Michael Marsland)
Jing Tsu, newly named as the John M. Schiff Professor of East Asian Languages and Literatures and of Comparative Literature, is a cultural and literary historian of modern China.
Tsu is the first person to become a tenured professor of Chinese literature and comparative literature at Yale. Her research spans literature, linguistics, science and technology, typewriting and digitalization, diaspora studies, migration, nationalism, and theories of globalization. Crossing different fields and disciplines in the humanities, social sciences, and the sciences, Tsu has been widely recognized in Asia and the United States for her wide-ranging and original approach to Chinese culture and history in a global context.
Tsu is the author of four books, including "Failure, Nationalism, and Literature: The Making of Modern Chinese Identity, 1895-1937" and "Sound and Script in Chinese Diaspora." The latter has been called "a truly groundbreaking work in Sinophone studies" and is being translated into Chinese. She is currently writing a new book about how China entered the IT era, "The Kingdom of Characters: Language Wars and China's Rise to Global Power," a narrative that uncovers what happened to the Chinese script technology in the age of the western alphabet.
The Yale professor earned B.A. and M.A. degrees from the University of California-Berkeley, and her Ph.D. in East Asian Languages and Civilizations from Harvard University. She joined the Yale faculty in 2006. Currently Chair of the Council on East Asian Studies at the MacMillan Center for International and Area Studies, Tsu has served as a member of the executive committee of the Whitney Humanities Center, the Humanities Program, and Film & Media Studies Program, as well as a faculty affiliate of the Women's, Gender, and Sexuality Studies Program; the Ethnicity, Race, and Migration Program; and the Film & Media Studies Program.
Tsu is the recipient of fellowships and honors from the Society of Fellows (Harvard University), the Woodrow Wilson Foundation, the Center for Advanced Study in the Behavioral Sciences (Stanford University), the Alexander von Humboldt Foundation, Radcliffe Institute for Advanced Study (Harvard), the New Directions Fellowship from the Andrew W. Mellon Foundation, the Institute for Advanced Study (Princeton University), and, most recently, the John Simon Guggenheim Foundation.