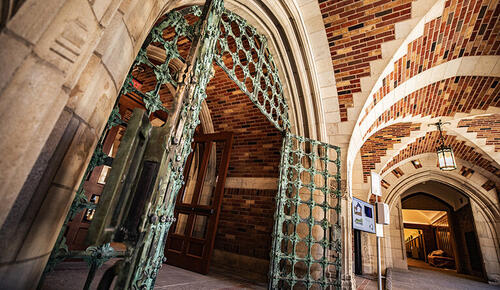 Since 2019, 'The Six Pretty Good Ideas' course series has given humanities-oriented first-years an opportunity to explore works across canons.
"Six Pretty Good Selves" is one of four first-year seminars taught in the 2021 fall semester as a part of the "Six Pretty Good Ideas" course series. 
The series, which began with the "Six Pretty Good Books" course taught by professors Shawkat Toorawa and Tina Lu in the fall 2019 semester, currently includes "Six Pretty Good Selves" in addition to "Six Pretty Good Poems," "Six Pretty Good Buildings" and "Six Pretty Good Journeys" this semester. The series is currently co-directed by professors Ayesha Ramachandran and Marta Figlerowicz. 
"We feel it is important to not take for granted what kind of background students at Yale come from," Figlerowicz said. "We wanted to create a class that would welcome humanities students from all kinds of experiences and backgrounds. We mean this socioeconomically, geographically, culturally and linguistically." 
Ramachandran described the "Six Pretty Good Ideas" title as being "intentionally irreverent," explaining that the underpinning ethos of the course is to challenge existing norms about which scholarly works are most often qualified masterpieces. The Six Pretty Good Series distances itself from a canon of 'masterpieces' that disproportionately features thinkers of the Western tradition, while also not disavowing the importance of teaching Western thinkers all together. 
The works taught in "Six Pretty Good Selves" include canonical texts of the West such as Plato's Symposium and Shakespeare's Othello, as well as non-Western texts such as Vatsyana's Kamasutra. The course dedicates two weeks to examining one of six transhistorical models of considering selfhood: the ideal self, the lover, the revolutionary, the convert, the solipsist and the social climber. 
"There have been a lot of conversations at Yale and elsewhere about what it might mean to expand that [Western] canon and be more inclusive," Ramachandran said. "As the two of us have talked about it, we were interested in the pedagogical challenge of building a syllabus that did not reject teaching great books of the West. We feel committed to building a syllabus that can put [those texts] in a larger framework of the world."
As a first-year seminar, the "Six Pretty Good Selves" class is larger than average, with about 40 students currently enrolled and about 80 students enrolled across the four seminars in the series. Figlerowicz and Ramachandran explained that they prioritized accommodating as many interested students as possible over their initial vision for class size. 
Students in the course had positive attitudes about the syllabus itself and the broader objectives of the course. Tyler Norsworthy '25 said he found the class "really interesting" because of its wide range of transhistorical and transcultural texts. 
"It's totally effective at giving a diverse perspective; There are readings on the syllabus that I would never have even known to think about reading," Edie Lipsey '25 said. "So if you're someone who really commits to immersing yourself in these texts, the class is enriching." 
Still, some students felt that the size of the class challenged their expectations of what they thought a first-year seminar would look like. Lipsey said that students were divided into three discussions led by graduate student teaching fellows in order to accommodate around twice as many students as originally anticipated. 
Ramachandran and Figlerowicz admitted that this term was experimental in learning how to balance growing demand for the course with their initial vision for the class as a smaller seminar, noting the high enrollment pressure they experienced at the beginning of the term. Delegating discussion sections to teaching fellows, they said, was a way to preserve seminar-style discussions within a bigger course.
"The structure of these courses [is] different from the typical first-year seminar," Ramachandran said. "[But] that was actually very effective for a lot of students who didn't want to speak up in the larger group." 
The comparative literature department is offering 21 courses in the spring 2022 semester, according to Yale Course Search.