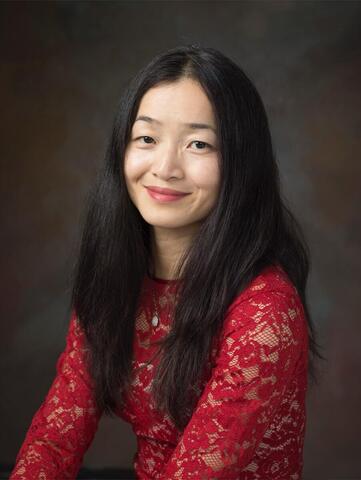 The scholar of modern China, who recently published a widely-acclaimed book, brought cultural history and commentary to the Winter Games' opening ceremony.
Isaac Yu 11:49 pm, Feb 06, 2022
Staff Reporter
As Yalies take to the ice at the Winter Olympics, a professor is standing on the sidelines, offering fans context on the Games' cultural and political significance.
Jing Tsu, John M. Schiff Professor of East Asian Languages & Literatures and Comparative Literature, is serving as cultural commentator for NBC Olympics in Beijing. Olympic fans in the United States met Tsu last Friday night during the Games' opening ceremony, a dazzling and politically-weighty spectacle that drew on ancient and modern Chinese symbols. The professor, a specialist on Sinophone culture and literature and a 2016 Guggenheim fellow, filled in the ceremony's details that might not have been obvious to the average American fan. The ceremony opened, for example, with a countdown from 24.
"China has traditionally used a mix of lunar and solar calendars," Tsu told the network's 14 million U.S. viewers. "The four seasons are subdivided into 24 divisions with spring at the start — each division here is presented in the context of a poem or a story. That number was chosen here because of its auspicious coincidence because these are, after all, the 24th Winter Olympic Games."
Over the course of Saturday's two-hour ceremony, Tsu conversed with fellow hosts Andrew Browne, another China scholar, and NBC Sports anchor Mike Tirico. They were among the few reporting on the ground from Beijing: NBC kept the majority of its broadcast teams in Stamford, Connecticut due to COVID-19 concerns. The trio's discussion engaged in the Beijing Games' political meanings amid rising tensions in Eastern Europe as well as China's repression of its Uyghur minority. The professor's expertise, however, was called in for the cultural background of the Beijing Olympics. 
The order of countries in the ceremonial procession, Tsu explained, was determined by the number of strokes required to write the one character in the country's Chinese name. Tsu also commented on the historical significance of Taiwan and Hong Kong, and on the repeal of China's one-child policy and ensuing struggle to boost birth rates.
At Yale, Tsu has taught numerous graduate seminars and an undergraduate lecture, "China in the World." She joined Yale's faculty in 2006 as an assistant professor, and chaired the Council on East Asian Studies between 2014 and 2021.
East Asian Languages & Literature department chair Aaron Gerow said that faculty in his department were "pleasantly surprised" by the announcement of Tsu's Beijing post. He applauded NBC's decision of having Tsu, a humanist, as cultural commentator, noting that political science and international relations scholars generally fill the role.
"I hope people watching the Olympics get a broader fuller sense of: what is China, and what do these games mean?" Gerow said. "We're just so happy not only that Jing was selected, but that someone from the humanities is talking about something so crucial."
Tsu also chaired the Council on East Asian Studies between 2014 and 2021, and became an affiliate scholar of the Jackson Institute for Global Affairs last year. She has now authored and co-edited four books, delving into literature, nationalism and globalization. Tsu's latest book, "Kingdom of Characters", appeared on the front page of the New York Times' Book Review on Sunday. Published on Jan. 18, her book tells the stories of the pioneer linguists and scholars who radically transformed Chinese script and language in the 20th century, and thereby transformed China itself.
Pericles Lewis, vice president for Global Strategy, called Tsu an "outstanding scholar". 
"It is great to have our faculty reach broader audiences through traditional and social media — [it] gives them a chance to elevate popular discourse on important topics," Lewis wrote in an email to the News.
The 2022 Olympic Games began on Feb. 4.
ISAAC YU
Isaac Yu writes about Yale's faculty and academics. He lays out the front page of the print edition, edits the News' Instagram and previously covered transportation and urban planning in New Haven. Hailing from Garland, Texas, he is a Berkeley College sophomore majoring in American Studies.