Eric Jose Esteban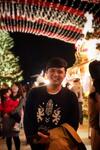 Eric Esteban is a third-year Ph.D. student in East Asian Languages & Literatures, as well as in the graduate certificate program in Women's, Gender, and Sexuality Studies.
He earned his BA in Japanese Language, Literature, and Culture and BHS in Public Health at the University of Florida. He then completed the MA program at Yale University in East Asian Studies, during which he continued his study of premodern Japanese literature and spent a year at the Inter-University Center for Japanese Language Studies in Yokohama, Japan. His master's thesis focused on the poetry of Shunzei's Daughter and the discourse surrounding femininity and verse composition during her lifetime.
With a broader interest in premodern Japanese literary and visual culture, Eric focuses on female court poets active in the poetic circle of Emperor Go-Toba during the 12th-13th centuries. He has presented his research and given invited lectures here at Yale and at universities in North America. He was active in graduate student-led working groups such as the Premodern Gender and Sexuality working group and the Modern Japanese Poetry reading group.
His annotated translation of a poetics treatise by the Nun Abutsu was published in Japan Studies Review in 2015. He continues to train in Japanese paleography as an active contributor for an ongoing transcription and translation collaborative project on a manuscript held at the Beinecke Rare Book and Manuscript Library.