Eugene Kwon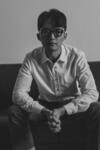 Eugene is a doctoral candidate in the Combined Program in East Asian Studies and Film/Media with a focus on Japan and South Korea. 
A South Korean citizen and born in Bogotá, he has spent most of his life overseas in Europe, South and Central Americas, and the U.S. His research focuses on various student groups and artist collectives in South Korea and Japan during the 1970s and 1980s that respond to the rise of 'information society.' To sustain his love (or contempt?) of cinema, he regularly writes film criticism (Modern Korean Cinema, Los Angeles Review of Books, Senses of Cinema) and translates for actors and directors, including the Parasite team back in 2019. Most recently, he has contributed a special coverage on Korean cinema for Sight and Sound and a feature interview of Hamaguchi Ryusuke for Cineaste. With prior experience in directing and producing independent films, he is deeply committed to incorporating art practice in his teaching to capture sensorium and discourses that often slip through the cracks in academia. 
Before coming to Yale, he worked for the South Korean Navy as an officer (Lieutenant Junior Grade), interpreting for South Korean, Japanese, and Korean military personnel from 2015 to 2018. 
He is currently based in Tokyo.