Jason Douglass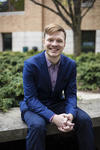 After graduating from Yale College in 2013 with a B.A. in Film Studies and East Asian Studies, the Parker Huang Travel Fellowship enabled Jason to spend a year studying academic Japanese as a student of Art History at the Inter-University Center in Yokohama, Japan. Love then brought him to the city of Los Angeles, where he worked as an office manager by day and as a freelance translator by night. His translation projects include a special exhibition and catalogue for the Tokyo Metropolitan Art Museum and a year-in-review publication for the city of Matsudo's Artist in Residence program.
At present, Jason is a Ph.D. student in Yale University's combined program in Film and Media Studies and East Asian Languages and Literatures, as well as the graduate program in Women's, Gender, and Sexuality Studies. His research interests include animation, film and media theory, and East Asian cinema. Outside of the library, Jason enjoys watching movies with his cats, Vash and Baymax, and eating any and all sweets that he encounters – especially chocolate ones.
Jason's publications can be found in Film Quarterly, Animation Studies Online Journal, Animation Studies 2.0, and the forthcoming edited collection Animation and Advertising (eds. Kirsten Moana Thompson and Malcolm Cook, Palgrave Macmillan). In addition to contributing to conferences, courses, and film series held at Yale, he has presented his research at NYU, Boston University, the Kyoto Manga Museum, Sarah Lawrence College, UCLA, University of Tübingen, and at international conferences hosted by the Society for Animation Studies and the Society for Cinema and Media Studies. He has received fellowships and grants from the Richard U. Light Fellowship, the Council on East Asian Studies, and the Fund for Lesbian and Gay Studies. In 2018, the Society for Animation Studies awarded him the Maureen Furniss Award for Best Graduate Student Paper on Animated Media.