Kang-I Chang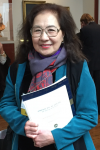 Malcolm G. Chace '56 Professor of East Asian Languages & Literatures
Address:
320 York Street, New Haven, CT 06511
B.A. Tunghai University, Taiwan, 1966
M.L.S., Rutgers University, 1971
M.A., South Dakota State University, 1972
Princeton University, M.S. 1976, Ph.D. 1978
Kang-i Sun Chang, the inaugural Malcolm G. Chace '56 Professor of East Asian Languages and Literatures at Yale University, is a scholar of classical Chinese literature with interest in comparative studies of poetry, literary criticism, gender studies, and cultural theory / aesthetics.  She has been teaching at Yale since 1982.