The study of an East Asian cinema requires considerable knowledge of both film studies and the history and culture of the region, and is thus a field often best pursued through combined interdisciplinary study in film and Asian literature or culture. The Combined Ph.D. Degree Program in Film Studies and East Asian Languages and Literatures at Yale aims to cultivate scholars of Asian cinema with rigorous training in both fields. This is a true combined degree program, with each department being the student's "major" field and thus with complementary sets of requirements. Students must develop considerable knowledge not only of their East Asian cinema, but also of East Asian literature unrelated to film, and cinema apart from East Asian film. Such scholars can pursue a variety of career possibilities, in either a film studies or an East Asian literatures department, or elsewhere.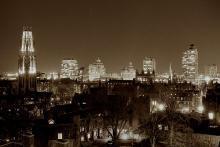 Yale supports study in East Asian cinema through a university-wide commitment to information exchange, cooperative research, the acquisition of resources (films, books, magazines, etc.) and through events such as conferences, film series, and lectures. Students interested in thorough interdisciplinary study of East Asian cinema, particularly Japanese film, are encouraged to apply to the Combined Degree Program. On the other hand, students who wish to concentrate in East Asian languages and literatures with only supplementary study of film should apply just to the Ph.D. program in East Asian Languages and Literatures, not the Combined Program.
Admission to and Administration of the Combined Ph.D. Degree
The application for the Combined Degree Program is administered by the Office of Graduate Admissions. To apply online, please visit their website at https://gsas.yale.edu/admissions. Interested students designate Film Studies and East Asian Languages and Literatures (EALL) on their application. All applications, including writing samples, are read by the admissions committees of both departments. Every student admitted to the Combined Program will then be under the combined supervision of the Film Studies Program and EALL. The student's plan of study will be worked out in consultation with the Director of Graduate Studies (DGS) of Film Studies and the DGS of EALL.
Requirements and Progress toward the Degree
Students are required to take sixteen courses over a two-year period. In some cases, a candidate may be allowed to take up to two courses in the third year of study while preparing for the oral examination.
The general breakdown of course requirements is as follows:
A: Requirements in Film Studies: Six courses
1. Films and Their Study (offered every other Fall term)
2. Historical Methods of Film Study (offered in Fall term in alternation with Films and Their Study)
3. Four additional seminars in Film Studies
B: Requirements in EALL: Eight courses in East Asian studies
1. Includes a course in research methods
C: Other courses: Two courses
1. These courses, often outside of film and East Asian studies, are to be selected in consultation with the DGSs of both units.
2. Students may gain up to four course credits for prior graduate-level course work upon approval of both DGSs.
D: Languages
1. International students must have a high proficiency in English at admission. Graduate coursework (seminars presentations, papers, etc.) at Yale is conducted in English.
2. A minimum of three years of course study in an East Asian language upon admission. Students who have not studied classical Japanese or Chinese will do so in their first year in the program.
3. Reading knowledge of one European language (usually French) must be attained by the time of qualifying examinations.
E: Other
At the end of each academic year, until a student is admitted to candidacy, a faculty committee will review the student's progress.  For the second year review, the student must submit a revised seminar research paper, on a topic selected in consultation with the adviser, no later than April 1 of the fourth term.
A student has some flexibility in planning his or her courses, but a precise plan of study will be worked out in consultation with the DGS in both departments. Students could, for instance, take East Asian-related courses in the History, Anthropology or History of Art departments, as well as East Asian cinema courses offered through EALL, to fulfill the EALL requirements, but through courses and readings they must also prepare for examination questions in classical and modern East Asian literature.
A student advances to candidacy by completing a number of formal procedures:
1. No later than the end of the sixth term the student will take the qualifying examination. The examination will be broken into three sections of approximately 30 minutes each:
A significant aspect of East Asian literature
A significant topic in Film and Media studies
A topic involving East Asian Cinema and Culture
These fields and accompanying reading lists should be signed by all three examiners and will be due at the EALL department office by October 1st of the third year.
2. A one-hour oral examination covering key primary and secondary texts in Film Studies, and administered by two members of the Film Studies graduate committee,taken at a time to be agreed upon by members of the faculty in Film Studies.
3. The submission of a dissertation prospectus to the Department of EALL and to the Film Studies graduate committee for approval at the begining of the seventh term, by September 1.
Once these three steps have been successfully completed, the student has advanced to candidacy. Upon completing these requirements the student will begin work on a dissertation, in close cooperation with an adviser. .Once the student and dissertation adviser deem the dissertation finished, a public defense of the completed work shall be held. At least one examiner of the dissertation must be a member of the graduate Film Studies committee and one a member of EALL.
Teaching Fellowships
All admitted students receive the standard fellowship package as administered by the Graduate School. Ordinarily, students in this program will be offered opportunities to serve as Teaching Fellows in their third and fourth years of registration. Students in the Combined Program will have opportunities to teach in at least two film studies courses and can expect to have opportunities to teach in East Asian language and literature courses as well.
Study Abroad and Internships
Opportunities for study and residency in East Asia will be the same for students in the Combined Program as they are for all students in EALL. These include all fellowships and grants administered by the Graduate School as well as eligibility for the R. U. Light Fellowships for language study in East Asia, and other grants and fellowships for language study, pre-dissertation research and research-related travel, and dissertation research and writing administered by the Council on East Asian Studies. In Film Studies, one or two internships exist for candidates past their third year of study. These provide a stipend for one year as the intern helps prepare and stage the annual film series and colloquium at the Whitney Humanities Center.
Please also read the graduate study section of the Film Studies Program website for more details on application procedures and other issues.